Certificates and awards
A family company with traditions
Subsequent prizes awarded!
For 2016, we were awarded the title of Business Cheetah and among 687 companies based in the Lublin Province, we are in the 100th position. Effective Companies 2016 Lublin Province is another ranking, in which among the awarded 387 companies we occupy 49th place. Another statuette is Strong Trustworthy Company 2016 which was obtained by 261 companies based in the Lubelskie Voivodeship, here we are at the 9th position. The Institute of European Business took into account, in total, 70,000 Polish enterprises.
Certifications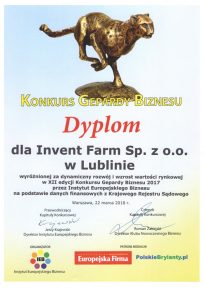 Konkurs Gepardy Biznesu
2017
Dyplom za wyróżnienie za dynamiczny rozwój
i wzrost wartości rynkowej w XII edycji Konkursu Gepardy Biznesu 2017.
Konkurs Efektywna Firma
2017
Dyplom za wyróżnienie w X edycji Konkursu Efektywna Firma 2017 za wysoką efektywność działania.